Arrowhead History
What a long, strange journey it's been!
A game for everyone is a game for no one
We want to share with you the details of our journey from the very not-so-glamorous beginnings to the present times. We hope to continually add many more things to our evolving timeline in the future.
How it all began - a Student Project
Our first game, Magicka 2D, was a student project. After working on it for months we were able to submit it in the Swedish Game Awards. To our amazement it won Game of the Year 2008!
After the win it rapidly gained attention in the Swedish game industry. With the help and encouragement of friends, family and Skellefteå university we decided to pursue our dreams and continue to develop Magicka.
At this point Magicka was being developed from the inside of a kitchen in a student apartment. With the difficulties starting to mount up between balancing full-time studies and developing a game, five of us decided to quit university.
All of our time was dedicated to developing Magicka on a full-time basis and we moved into a rented room on campus. In the beginning of 2009 we realized we needed to be a company and Arrowhead Game Studios was subsequently founded!
Soon after two more people joined the team to help us develop the game. With the new additions it soon became clear that the room on campus was not big enough. Once again we moved into an even bigger room on campus.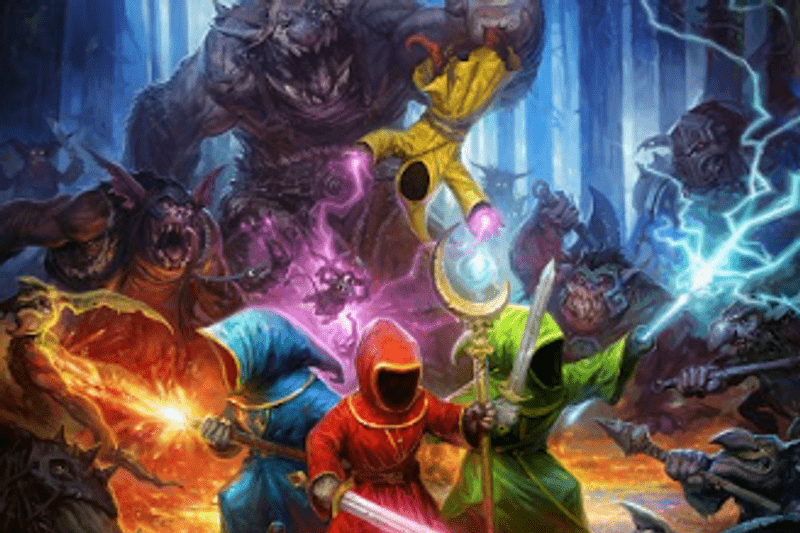 Releasing Magicka
Between 2009 and 2010 the whole team worked hard on the game while surviving on spaghetti and meatballs. The hard work paid off when Paradox Interactive became our publishers.
It was exciting to finally get Magicka signed and we started to enjoy a few of the perks of being proper game developers. We attended our first ever Game Developers Conference (GDC) in San Francisco!
At some point the vacation had to end and the rest of the year was spent tirelessly working on Magicka before the release in January 2011.
In January 2011 Magicka was launched. There were a few bugs, but overall the game was very well received with great reviews. We celebrated with a release party in New York leaving very fond memories.
With the surprise success of Magicka, Arrowhead was able to employ a couple more people at the end of the year. We moved rooms on campus again to accommodate the extras, with a total of 12 employees.
Paradox Interactive became the publishers of The Showdown Effect.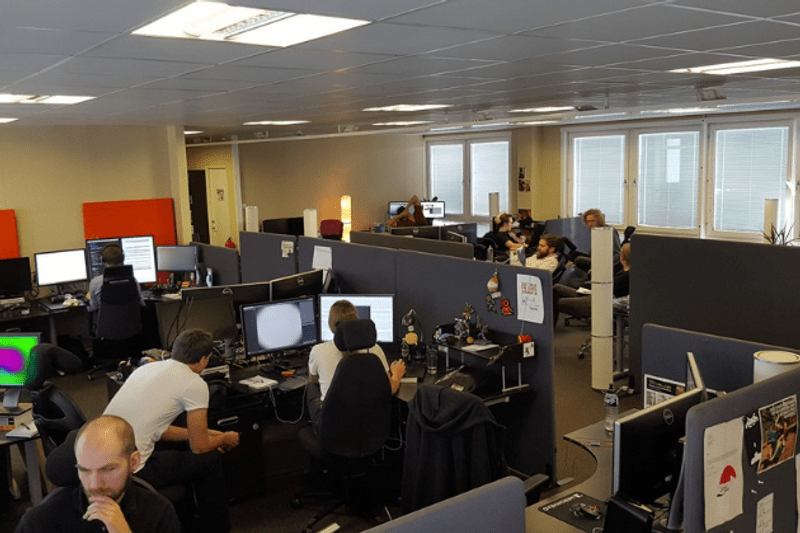 Stockholm - here we come!
The biggest room on campus in Skellefteå was no longer suitable. In 2012 Arrowhead took the decision to move its offices to Stockholm. For a while Arrowhead operated from both locations while the new offices were being set up and employees moved.
Once in Stockholm Arrowhead began to employ even more people ready for The Showdown Effect launch.
2013 was an extremely hectic year. Not only did we release The Showdown Effect, but we acquired two publishers! Sony became the publishers of Helldivers, while Warner Brothers became the publisher of Gauntlet. The team was big enough to split into two, and each team worked on the different projects.
Releasing Helldivers & Gauntlet
While working on both Helldivers and Gauntlet we recruited a few more people. At this point we now had over double the amount of employees since 2011, taking our total over 23!
Gauntlet on PC was released in the September of 2014 and the following March saw the release of Helldivers on PlayStation consoles. But we didn't stop there! Later in 2015 we update Gauntlet and launched it on PS4. Helldivers was also released on Steam in December.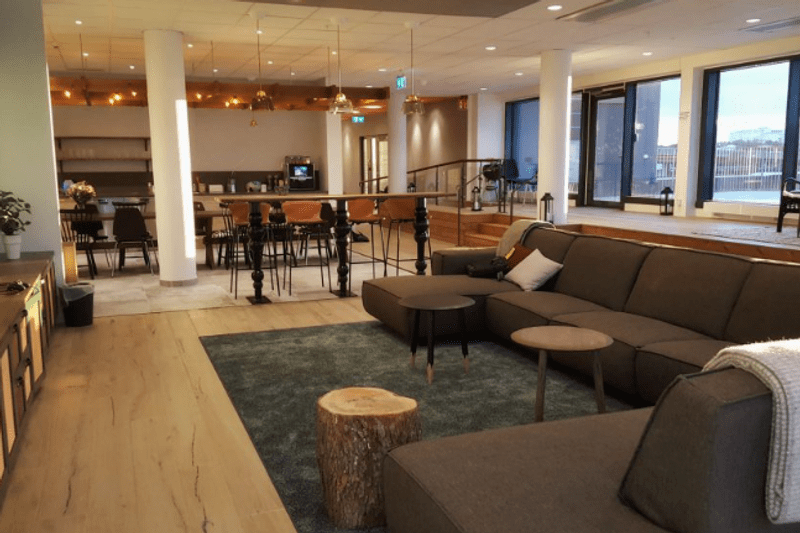 An unannounced project and a new studio
After a hectic 2015, 2016 was taken at a more leisurely pace. We had just started the unannounced project (little did we know that six years later it would still be unannounced…).
Our studio had grown to around 35 employees at this point, and we knew we had to continue adding additional members. Due to the already larger size of the company, and with the knowledge that we would continue to expand, Arrowhead decided to move offices.
In 2017 we took the plunge and moved from Globen to Hammarby Sjöstad, about 15 minutes away but closer to the water. NO REGRETS! The new office was beautiful and Malin had worked super hard to get it up to scratch in time for the move.
We moved in at the start of summer. For the rest of 2017 we settled into the new premises. It took us a while to get set up and truly comfy (the air con acted a little bit crazy at first, I guess it was a shock to suddenly have 35 people and 50 computers in the building!). But now we're in we wouldn't want to be anywhere else.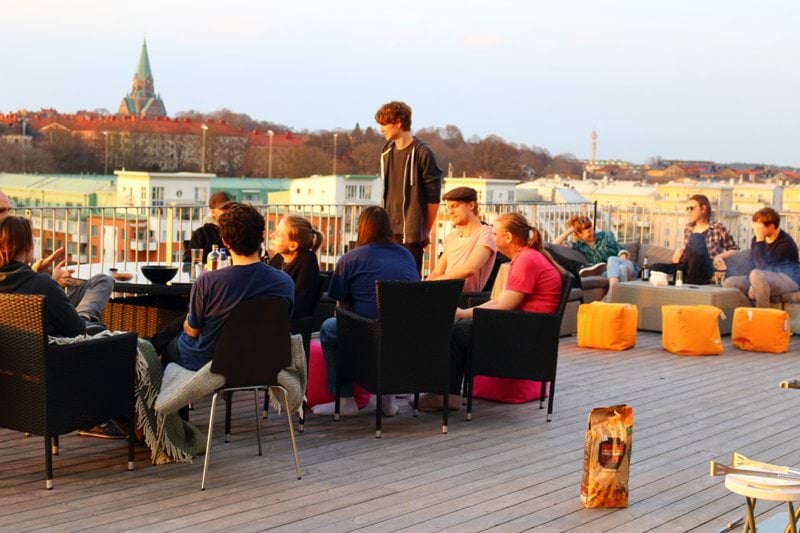 Studio growth
These two years have flown by if we're honest. On the game front we made a butt-ton of progress, but nothing which we are allowed to share (yet). So we've been pretty quiet regarding those details.
But socially within Arrowhead there's been a lot going on! We literally doubled in size! From the start of 2018 we recruited like crazy. It seemed like we had a new open poistion every week. By the end of 2019 there were roughly 60 people employed at Arrowhead.
With this many new people starting we did a lot of team building and getting to know one another. We had many fun excursions including Arrowhead's 10 year anniversary party, paintballing, a weekend in Italy, BBQs on the terrace, random office parties, floating sauna…loads more we're forgetting to mention!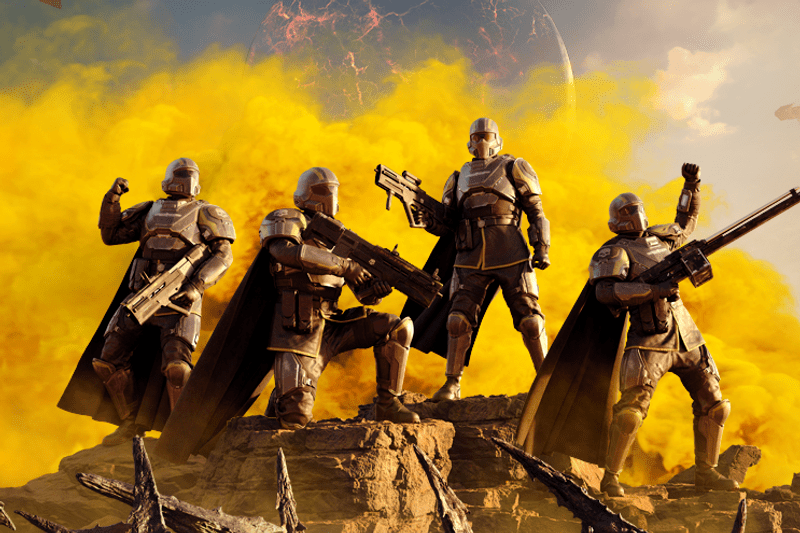 Helldivers 2
Announced for release 2023!
A trip through memory lane
Our jobs
Check out all of our open jobs and apply!